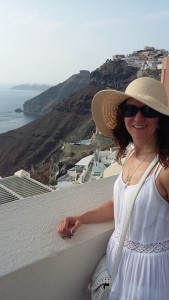 I've just come back from one of the best holidays I've ever had. Ian and I have never spent so much time together in the whole 24 years we've been together and amazingly we are still talking!
Okay so I'm always talking, but he's still there to hear it.
We joined my Sister-in-law Judy and her partner Michael for the 2nd year running in the beautiful Greek Island of Santorini.
We've stuffed our faces, laughed our heads off and drunk Santorini dry. My morning runs have now become a desperate mission to restore my waistline to its pre holiday shape and I'm sure my slight headache in the afternoons is a sign my body had gotten used to the alcohol level being unusually high! You'll be pleased to know I am presently drinking tea – not quite a Fix or Volcan (Greek lager)but I am enjoying it none the less.
We spent many a day with the only agenda being which sunbed to have, what to have for lunch and where to go for dinner – sheer unadulterated bliss.
Okay so my last week at work was a challenge just getting through each day and the night before we left I hardly slept a wink due to pre-flight jitters. However, the second I got on the plane and was airborne all worries just upped and left. I literally felt like I was floating on air.
The people were as welcoming as ever, the scenery completely stunning and the food, well you've only got to check out my Facebook page to know we ate a lot! I have become an unofficial judge of Greek salads, some with feta cheese so fresh and creamy I had to remind myself to share.

I had some great personal breakthroughs, swimming out of my depth in the sea without a hint of panic, eating more fish that actually still looked like fish, and managing to catch a tennis ball whilst treading water! I have never been able to catch even on dry land so this is somewhat of a revelation!
For all my great moments, there was of course some hilarious ones. Getting in the water, that despite the blazing sun, still felt cold enough initially to take your breath away therefore doing a great impression of the scene from when Harry met Sally! Ian and the other swimmers were doing their best not to laugh and failing miserably. Then there was the time I was washed up on the shore by a rather robust breaking wave, whilst trying to get stones out of my hot tuna beach shoes. Once I was on my back, legs a flailing, laughing uncontrollably, I just couldn't seem to do much but go with the flow and every wave seemed to roll me back over. I looked like a demented dying fly. Trust me it was not the look I was going for!
Then of course there was our annual visit to Santo wines, where the sunsets were breath-taking, the wine divine, and the singer had an eerily beautiful voice. However, my excitement at the prospect of sound-vision ( I meant video!) and Ian's invention of super thumb had us rolling about with laughter. Not sure I'm ever gonna live that one down. Oh well – I was on holiday.
No seriously, it was just what the doctor ordered and I feel so much better for it and there wasn't a day while I was there, that I didn't feel blessed and know that it was so worth every minute of hard work it took to make it happen.
So now that we are all back in the saddle so to speak, and the lovely summer of 2016 is behind us, what would you like to make possible for next year? If you know you need to make some changes, to make a dream goal come true for you get in touch with me. I have some space coming up for 2 new coaching clients and would love the honour of helping you achieve that goal. Recently I've helped people to get organised, lose weight, find inner calm and happiness, change their job and sort out their finances. So whatever that change may be I can help. I'm fully recharged and raring to go so PM me or  contact me on janewilmer4@gmail.com and we can get going xx
In the mean time enjoy what's left of the sunshine and Stay Sassy
Jane xx