Life's easier with team work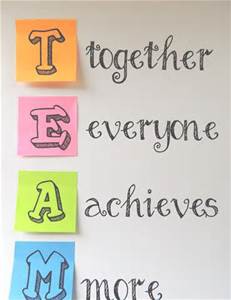 Since coming back from holiday life seems to have been a bit hectic. Trying to fit everything in, is as always, a challenge.
Friends to see, additional qualifications to work towards, award ceremonies to attend, leaving do's and more people than ever wanting to quit smoking! Phew, it's been fun but exhausting.
Add to that my desire to run longer and longer distances on my days off, the fact choir is back in full swing and the housework seems never ending you get the picture.
I could go slowly mad with it all, but for the fact I have my team.
The people without whom life would definitely not work well.
At home Ellie is my little saviour, the fact she happily helps to cook and clean whenever necessary is one of the main reasons I can fit so much more in to life. I'm lucky to have a hubby that cooks too and although he is like a human hurricane in the kitchen and creates soooo much mess – he does help to clear up as well.
Then there's my work team. We all support each other so much that we won an award for best of the best healthcare team in our area!
It was an absolute honour to represent them at a recent awards dinner in London and a lovely excuse to dress up and have some bubbly.
They really are the best team and I know just how lucky I am to work with them. I couldn't help anywhere near as many people to stop smoking if it weren't for their help and support. We all bring something different to the workplace and all have our unique talents to add to the mix. It can be a very stressful environment being in pharmacy retail, but somehow we manage to get through with a mixture of hard work, humour, hugs and haribo!
So if you ever find yourself with one hundred and one things to do and feel like you're overwhelmed with the need to do everything all at once, stop a minute and look around you. Help might be more at hand than you think! I've learnt over the years that appreciation and genuine care, goes a hell of a long way to creating a team that works and eliminating those that are self serving also has a healthy effect on any team.
Have a fantastic couple of weeks and don't forget to Stay Sassy!
Jane xxxx