Preparation, preparation, preparation.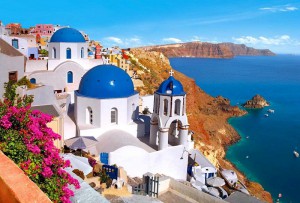 I can't believe how much planning there is to going away on holiday. I thought I was pretty much done for this year's trip to sunny Santorini, but there always seems to be something else to do, no matter how organised I think I am.
Don't get me wrong, compared to previous holidays, I am so on top of things it's not even funny! I used to be such a last minute Lil, my stress levels would be going through the roof by now. Instead I am sitting in my garden in the beautiful sunshine, telling you how it's actually going remarkably well.
Everything is paid, we have enough money, enough clothes and even brand spanking new suitcases, we've got all those little niggly tasks done like informing this person and that person. I've even managed to get on track with a few things that were frustrating me at work.
I am going to go through things today with Ellie, the world's best organiser, just to make sure I still have plenty of time to buy any stuff that has slipped through the radar.
I just want to make sure that when I am lying on that sun lounger, reading a great book, I know all is well.
Oh there we go, another job yet to do – the great kindle download! Still, with nine days to go, I am definitely way more organised than ever before – here's hoping this new found way of life will something I can definitely get used to!
Have a fantastic day in the sun and of course….
Stay Sassy
Jane xxx