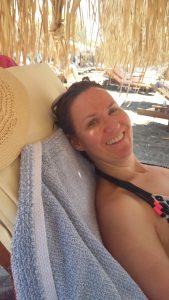 Well I said my goal was to do nothing and we managed it well.
There was lots of lounging around on a sunbed,in the shade of a lovely palm unbrella. Lots of swimming in the sea, or should I say floating around. Of course I shreiked like a girl when I first got in and looked liked a demented chicken getting out, but I enjoyed it!
To say Ian (my hubby) and I need this holiday is an understatement. We have both been working so hard and what with another Marathon and decorating it has been a busy old year.
One of the most important things about getting away is a chance to spent some time together, without all the everyday stresses and strains. A chance to unwind and just be. We've not been a great team of late. He has been Mr Grumpy and I have been little Miss overemotional. Not a good combination.
So we are slowly releasing our inner child and have been busy doing nothing. Shame you can't be on holiday every day! Anyway,thats me over and out for the day as there is a frozen yogurt awaiting my attention.
Whatever you are doing today, remember to stay sassy.
Lots of love Jane xx