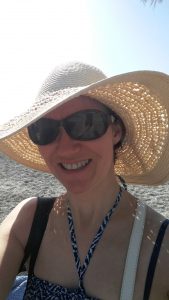 Hello from the very sunny shores of Santorini,Greece. I am writing this from the beach where I have just had my first dip in the sea
My version of paradise. This is Ian,my hubby and I's third visit and we are staying in a different apartment yet again and I must say Nostos studios is the best so far!
I was not looking forward to such an early flight 6.30am! As predicted it sent my OCD and anxiety through the roof, however having spent yesterday so much less tired than usual I can honestly say it was worth it. I hate admitting my hubby was right about something, but hey ho, I can't deny it.
The early start was a distant memory as we had a well earned beer and Pizza at Terra nerra.The people that run it Maria and Yorgos are the loveliest people, the fact they always recognise us is a really nice bonus.
Then it was back to the apartment for a very refreshing swim in the pool and a much needed snooze in the shade. Duly revitalised we managed to walk the tiny 6 minute walk back to the beachfront to Popeyes restaurant (with the pretty pink flowers)for some lovely fresh fish and pasta. Oh and the strongest G&T I have ever had. I went from sober to sqiffy in about 5 minutes!
At least I slept well and it was nice to wake up to a beautiful sunrise.
The agenda for today is absolutely nothing. Let's hope I can achieve that!
More from Santorini tomorrow until then; stay sassy!
Lots of Love Jane xx