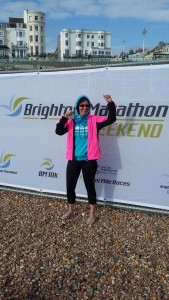 Well, here we are at last. Finally I have achieved my latest giant goal and created a new Personal Best for a Marathon!
My 2nd Brighton marathon resulted in me finishing in 5hrs 23 minutes, knocking a massive 19 minutes off of my previous time.
To say I am thrilled is an understatement. Who knew my little leggies would carry me so far, yet again!
Was it easier the second time around? Hell no. Sure, I knew what to expect, but it was still a gruelling physical and mental challenge. I could barely peel my own banana at the end. Thank you Brenda, you have no idea how much that meant to me xx
I started off with a full compliment of useful paraphernalia to help me achieve my goal, i.e. a bum bag full of Jelly Babies, hand gel, tissues, lip salve and of course I had my trusty phone, headphones and watch to keep an eye on my time. Only along the way I managed to lose my hand gel (a very necessary commodity for someone with OCD, facing Hi fives and portaloos) and my watch. So I ran a lot of the race with no idea how I was doing time wise and worried that someone could hurt themselves by tripping on my wayward bottle of gel!
After a while I just had focus on the job in hand, dig deeper than I have ever done before and just plough on regardless.
The fact my family and very good friends Brenda, Keith, Soo and Holly were expecting me at the finish spurred me on. I have to say I didn't enjoy this one as much as the first. I think the first time for a lot of things is always more exciting, as you seem to replace anxiety with euphoria and a sense of sheer disbelief, that you are actually achieving something you have wanted to do, for a long time. This marathon, it was all about getting a better finishing time and actually managing to finish something I started a very long time ago!
I got emotional at songs that I remembered from the last time. I got excited when I spotted my friends and family with the lovely Mind supporters, all cheering me on and I got close to giving up when my hips were trying to tell me, enough was enough.
Towards the end, when the rain mingled with the cool sea breeze and I was starting to get cold, I decided I needed to hear my hubby Ian's voice, to encourage me to make it to the finish. I fished out my phone and thanks to Strava (a running app) actually working, I suddenly realised I was doing a hell of a lot better than I thought.  Well that was it! Second wind instantly created. No time for pep talks – I was off, running all the way to the finish. Sure I was exhausted and every mile felt like at least double the distance, but I got there in the end.
I have never been so pleased, to have a man wrap me in a silver blanket, in all my life! Getting my medal, a lovely pint of non-alcoholic lager and being found by Ellie, felt so incredibly good.
Will I be doing another full marathon again? Probably not. It really does take such a massive amount of time and commitment and I kind of want my life back. I am going to keep up running about 3 times a week and definitely take the really positive lessons learned, into other areas of my life. I hope to do some half marathons, working on my core strength and speed, but for now I am happy to spend a bit more quality time with my family and friends and go forward with  my plans for coaching more and more.
My biggest thrill, is just how much I have managed to inspire others, to get out there and do something. Whether it's getting fitter, being more active or just trying something new its got to be worth giving it a go. Also if you have been encouraged to get support for a mental illness that has been taking over your life, trust me when I say it makes every step worth while.
Thank you for being there with me, every step of the way.
Stay sassy
Jane xxxx