The only problem with a Marathon, it's just so far!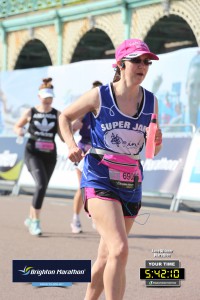 Well I've only gone and done it! On Sunday 9th April 2017 I completed my first ever Marathon.
A huge achievement for me, which apparently puts me in a category with just 1% of the population.
That's one more thing well and truly ticked off my bucket list!
Twenty weeks of training, running in all weathers and a strange liking for all things lycra suddenly accumulated into one of the best and most fulfilling days of my life. When you add in the fact that I have managed to raise over £700 for Mind, the amazingly supportive charity, I was truly thrilled to be wearing my blue Mind vest emblazoned with my positive power name Super Jane.
I went from strangely calm, to sheer joy, to questioning everything. Then to grit determination, tears of pride, tears of happiness, tears of exhaustion. Back to sheer disbelief and then finally happy acceptance. To say it was emotional was an understatement!
I have honestly never been so pleased to see my family at the end, in all my life.
Where do I begin?
Gosh it was hot! It's never that hot! Not in April. I was ready for rain, wind, cold, sunshine but 21 degrees at midday in April – Do me a favour. Still with my trusty cap, sun cream and much debated sports vest and summer shorts I was one of the lucky ones that clearly read the email. There were people literally melting out there! As for the rhinoceros and giant, green telephone I don't even know how they did it?
For the most part I ran round the course with a stupid big grin on my face. The crowds were amazing, the atmosphere brilliant and here I was doing something I love, running my little socks off! High fiving the Kids and the sound of Come on Super Jane ringing in my ears, just added to the positive tunes in my magic headphones!
That was until I reached the halfway point got confused by the time on the big display and had an awful (wrong) realisation that I had taken 3 hrs to run halfway. I hadn't – I had taken at least 40 minutes less as this was the gun time and not the time since my foot had stepped over the start.
To make matters worse I didn't see my family where I was expecting. I had seen them earlier as I whizzed passed stuffing a Jelly Baby in my mouth. But at 13 miles I was desperate to see their faces in the crowd. Apparently I had already gone passed them without realising, despite Micky shouting "Go on Mum" as loud as his voice box would let him.
So I entered into the most challenging part. The bit that seemed to go on forever!!!
In so many ways it was the worst bit and the best bit all rolled into one. At first it was fine as I spotted more and more Mind vests coming back down the way I was headed and then I made the mistake of looking up the longest road ever to see a throng of people all running as far as the eye could see. I remember saying out loud "You have got to be kidding me!" I had got to run all the way there and all the way back yet. Plus I seemed to have slowed down to the most pathetic shuffle of a run and I think it was as this point I had a little walk.
Then came the part that lifted me back up, made me smile and reminded me of the generosity of strangers. Lined along this huge long street were people shouting Come on Super Jane – You can do it! People with lovely cold oranges, Jelly Babies and even one man with a pot of lovely strawberries. It was like putting a lovely Ice cube in your mouth – I remember saying to him "Don't mind if I do!"
As for the lovely sprinklers and people with hosepipes and water soakers well they were just angels in disguise.
Any way somehow I managed to plough on through the next few miles and eventually got to the part leading to the dreaded Power Station. I was still going at a snails pace and realised I needed the loo. It was so strange how all through the course if I was thirsty I approached a drinks station and if I needed the loo – low and behold it was there! Well who would have thought a portaloo could be such a place of solace and recuperation? It was so lovely and cool in there that the few minutes sit down was a complete game changer! I came out and somehow my legs seemed to have remembered why they were there. I began to pick up pace and by mile 20 I was cooking on gas.
At this point I just kept on going, determined I had to make it … it was far too far to walk and besides I had promised myself I would really go for it passed mile 20, as that was the furthest I had gone in training and this was the important bit.
This was where I am sure an idiot had measured the miles as they just seemed to go on forever. Still I kept on going, ploughing on despite my aching legs, slowly but surely running passed the walkers.
Back along the seafront to yet more "Come on Super Jane's" and more fruit when It suddenly occurred to me I was here – actually running along the seafront as I love to do – I was living the dream! As for my OCD well I had taken fruit off strangers and been in so many portaloos it wasn't funny!
So began my emotional run to the finish which again lasted so much longer than I had anticipated. For some reason the miles in a marathon are six million times longer than normal miles!
I missed my family shouting their heads off yet again, but as I ran over the finish line arms held high I knew I had done it. Fulfilled a dream I have had since I was about 18 and finally at the fabulously sassy age of 48 I did it!
It's never too late. There is never a good time to have a giant leap of faith or fulfil a long held ambition. So you know what you just have to go for it! Put your all into something hook line and sinker and you never know you might just surprise the hell out of yourself!
And on that note
Stay Sassy
Lots of love and post Marathon euphoria
Jane xxx