Is there such a thing as too much fun?
Yet again I've had another jam packed week. My downtime seem to be as full on as ever!
A whole day spent in London with the girls, with the highlight being Hello Kitty's afternoon tea at Cutter & Squidge in Soho.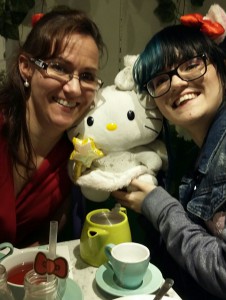 To say we had an abundance of tea time treats is an understatement. Although the sweet stuff was a delight my highlight were the cheese scones just like my mum used to make with the addition of cream cheese and red pepper relish they were amazing.
The downside was my inability to fit anymore food in and therefore lead to my very frowned upon salad in Nando's, where I had my 2nd social event of the day. A much needed get together with my colleagues at work the contrast between my two experiences were poles apart, the afternoon tea being quite a civilised affair, my first ever trip to Nando's was like a madness free for all! Drinks were spilt, food was shared and it was glorified chaos, however I loved every second of it!
Thursday evening was farewell drinks to Emma and although I was home by 10.30pm after only a couple of G&T's I was well and truly whacked!
By Friday evening my invitation of a soiree next door, was way beyond me and all I could think of was pizza and pyjamas!
So my week which on paper looked fun and exciting, has only proved I am no spring chicken. Instead here I sit nursing a cold and wanting to only do sitting down activities for the rest of the day. Next time I find myself desperate to have more fun in my life, I am gonna hope and pray those invites don't come all at once and leave me just a little bit of recovery time in between!
Have a great week ahead
Stay Sassy
Jane xxx