From Beatles to Crocodiles
This has certainly been a week of new experiences!
It all started with a fantastic opportunity to sing and record at the famous Abbey Road studios. Yes the very studios where the Beatles recorded so many of their legendary songs that still live on today!
Singing Hey Jude (in the famous studio they used) as a warm up with Rock Choir in full voice and the lovely, energetic, Georgie our leader, on one of the amazing pianos was a truly magical moment.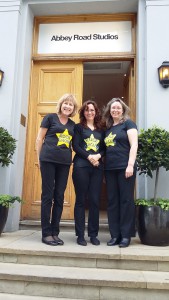 As was doing the actual recordings themselves.
The sound that we, a 150 people strong choir and a six piece band made was incredible.
The song choices Adele's Someone Like You and a Rock choir favourite Fall at Your Feet were perfect and hearing all the amazing harmonies played back through those famous speakers was extremely beautiful and for some overwhelmingly emotional. How I managed to keep it together I will never know!
I have to say me, my friends and fellow Rockies, Jane and Helen, (pictured above) feel incredibly lucky to have had this experience at all! It's only for the fact our previous Rock choir leader left to have a baby and we had to join a neighbouring choir that we got to go at all.
Thank you Georgie for having us, we've truly loved it!
We are still rehearsing like mad for the Capital Theatre show in July so if you are in the Coulsdon area and you spot a rather over enthusiastic Jogger, mouthing words (I don't have enough puff to actually jog and sing) and doing the odd gesture or click of the fingers that's me practising! Most of our songs are so uplifting that I also run with the biggest smile on my face so I know that is definitely not normal, good job I gave up on that years ago!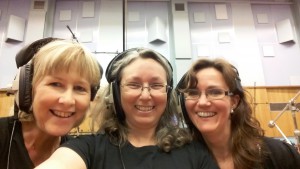 That was last Sunday, then last night Ian and I had a lovely evening at Vivat Bacchus in London Bridge. Using a voucher we had for Christmas, thank you Judy and Michael, we were treated to a flight of 3 wines which was accompanied by a very interesting and knowledgeable wine tasting experience. Our waiters and sommelier were fantastically attentive and the burgers well they were the best I have ever tasted! Ian's eyes nearly popped out of his head at the mention of a Crocodile Burger. I was rather brave for me and actually tried it. A cross between fish and chicken it tasted great, I could tell Ian liked it as he ate it so fast I think he inhaled it!
The service was so prompt I was back home in my slippers by 9.30pm. For once the trains were running on time as well. All this gallivanting must have been exhausting though, as I have just managed almost 12 hours sleep!
A while back I vowed to do more socially, too much work and no play was making me feel like a very dull girl, but now it feels like buses -nothing for ages and then all come at once!  I have another full on week ahead again popping up to London again and three social events in a row, now that's my fun and recreation topped up nicely.
So if you feel you've been all work and no play get out there and join a group or organise something. Who knows where that might lead? No matter what you do have fun and stay Sassy
Much love
Jane xxx