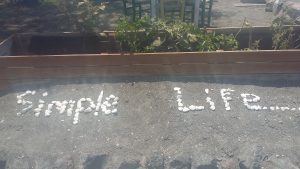 Yesterday for some reason we were all more tired than usual. Maybe just being a Sunday makes you immediatley more lethargic. Or maybe it was the excitement and possibly alcohol from the night before. Although my own consumption is greatly reduced due to my lightweightness!
The beach was far busier as the families were out in force, it was refreshing to see the locals in all shapes and sizes. Those who just enjoy the beach as an extention of their lifestyle.
Anyway, I am becoming very mindful of the wonderfully simple greek way of life and just why I love it so much here.
I also love that our biggest decision for the day is where to go for lunch and dinner. Yesterday as usual we kept it simple and everyone had fish and seafood tapas(a bit of this, and a bit of that) except for me, I had the best ever moussaka. Last time we were here it was which is the best greek salad, this year I have moved my attention to moussaka.
Last night we chose Afros as our eaterie (that one's for you Sam!). We especially love this place as its ethos is very greek, very fresh and very simple.
They grow their own vegetables, catch their own fish and well the grandmother's recipe Zucchini balls are to die for! Ellie would love it as there is so much vegetarian choice.
Unlike the other restaurants this one is very much a taverna, with a hand painted sign and black boards with lovely positive messages about taking life slowly and keeping things simple.
It's decor is not at all modern, but it is colourful and they are very warm and friendly. You feel like they are welcoming you into their home. The duo playing traditional music was a lovely addition and the fireworks on the beach at Terra Nerra certainly made sure the evening was memorable.
I was so full from eating, I waddled back nursing my food baby and promptly fell asleep the second my head hit the pillow!
So as we start a brand new week my questions to you are this: How can you keep it simple? And what are your own simple pleasures? I would love to know.
Anyway it's Antio sas (good bye)for today.
Stay sassy
Lots of love Jane xxxx